You're Invited to EUC Insights 2015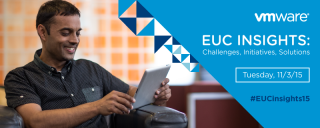 EUC Insights 2015 is the only online event that is wholly focused the biggest trends and influences on today's end-user computing landscape. And you can get a free pass to this exclusive business mobility event by registering here on the VMware EUC blog. Register free today! EUC Insights: Challenges, Initiatives, Solutions Exclusive Online Event Tuesday, […] The post You're Invited to EUC Insights 2015 appeared first on VMware End-User Computing Blog .
---
VMware Advocacy
Sr. Systems Engineer
at
VMware
Bulent is an IT professional with Master's in MIS and 10-years of experience in broad range of Information Technologies. He is exposed to engineering/architecting, implementation/integration, and administration of various high-available IT systems and infrastructure. He has a passion to continually research, test and evaluate new technologies and follow industry best practices to secure and optimize IT systems. Currently, he lives in Istanbul and works as a Sr. Systems Engineer at VMware.
Latest posts by Bulent Tolu (see all)